How it works
ComfortID.org detains a key to the successful future of your business: the knowledge about the thermal comfort preferences of your valued customers. So no matter where your guests come from, in your premises they will experience a thermal comfort just like home. Even better, they might return to their home with an additional souvenir of their journey to the location(s) of your hotel: their personalized thermal comfort profile -also called ComfortID- that is portable and inter operable with various -systems they might have at home or encounter elsewhere.
In the following, your guests interactions with ComfortID.org's service that are about to contribute to your hotel's unique selling proposition will be detailed. The presentation is organized in timely consecutive steps along your guests journey.
Pre-stay
Once a confirmation of a booking is sent back to a future guest, there is no hinder to prepare the guest's unique experience he/she will have in your hotel. In your ambition to provide the best possible experience to your guest, you are starting to condition the room to your best capabilities and knowledge. However, this is unfortunately no longer the best solution you can provide.
Using the services of ComfortID.org, the room or suite of the prospective guest can be conditioned according to his/her preferences even before arrival. Hence, when the guest arrives no matter from where he/she has traveled from, the user will be provided a thermally comfortable experience "just like home".
Stay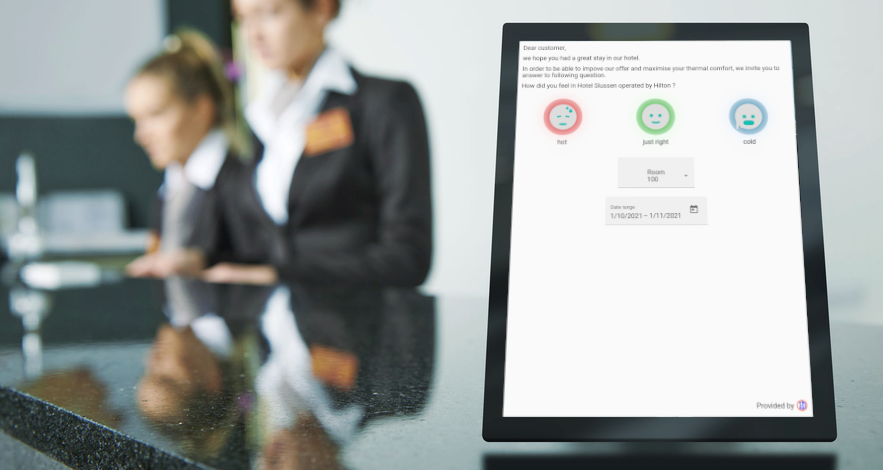 During the stay, the guest shall be provided with the best possible experience just like home. Therefore, the user shall no longer need to contact room service for a complaint on thermal comfort. This use case is actually precisely what ComfortID.org helps to avoid. In the unlucky and unlikely event, that the best comfort is not provided, ComfortID.org has the solution. The guest can easily access a rating terminal where the (dis)satisfaction can be expressed. After the rating, the conditioning will be adapted to the user's preferences and the expressed rating.
The rating GUI can be accessible on multiple devices: Either on your guest's smartphone in a dedicated app or on a static touch-point such as a tablet or a room entertainment system through an web application that may also easily integrated in your website(s) or mail services.
Post-stay
Continuous improvement is a key to success. Comfortid.org provides you with the right tool to follow up on your customers satisfaction with their thermal experiences within your premises. In form of statistics, your personnel will get access to the statistics making the benefits of ComfortID.org measurable.
Away

An additional souvenir your guests may take home from their stay in your hotel will be a personalized ComfortID. They can use it for their next stay in your hotel(s) or in any compatible living space!
Advantages
The advantages that ComfortID.org provides to your hotel business are multiple. In the following, a non-exhaustive list is provided: